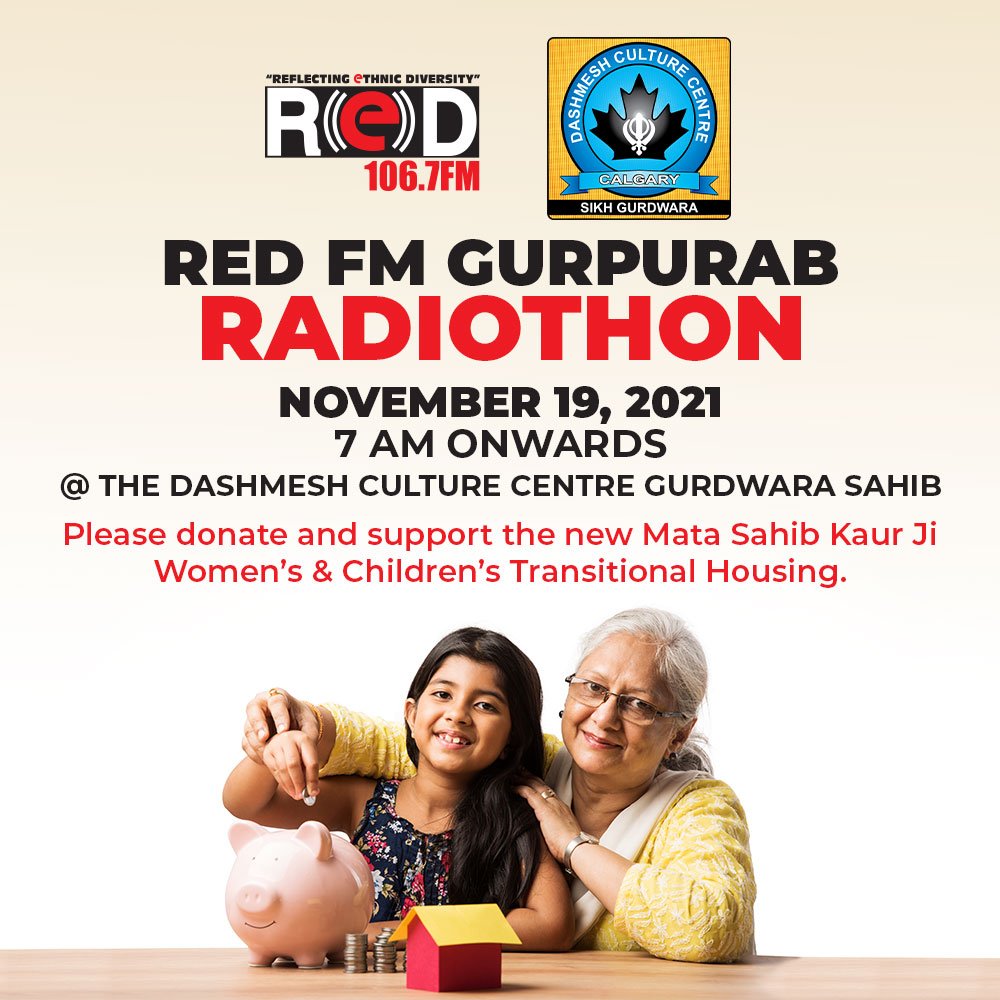 RED FM Calgary is happy to announce that our 2021 Gurpurab radiothon will raise funds to support Dashmesh Culture Centre's Mata Sahib Kaur Ji Women's & Children's Transitional Housing.
This radiothon will be held on November 19th from 7 am onwards at:
The Dashmesh Culture Centre at 135 Gurdwara Sahib Blvd. NE Calgary T3J 2X5
How to Donate:
We are grateful for your support.
Phone: On November 19th, 2021, please call 403-300-0778 to donate using your credit card.
In-Person: at the Dashmesh Culture Centre Gurdwara Sahib
Cheque: You can also mail your donation cheque. Your cheque should be payable to Dashmesh Culture Centre.
Mailing address: RED FM #420-4774 Westwinds Dr. N.E. Calgary T3J0L7.
RED FM does not retain any portion of the donations. 100% of the funds collected during the radiothon are for Dashmesh Culture Centre's Mata Sahib Kaur Women's & Children's Transitional Housing project.
Donor information will be provided to and retained by Dashmesh Culture Centre, for processing donations made during the Radiothon. Dashmesh Culture Centre may use the information provided during the Radiothon to send you tax receipts, thank you letters, or to contact you for future donations and support.
Information regarding the project:
This project is much needed in the NE quadrant due to lack of resources and facilities in the area. It will be conveniently located close to Saddletown Circle, Saddletown LRT station, schools, Genesis Centre, and Dashmesh Culture Centre.
The proposed project with consist of 62 Units of accommodations designed to assist women's and children who are escaping domestic violence, lack the support of family and friends, or are struggling to make ends meet during tough economic times.
We thank you for your support