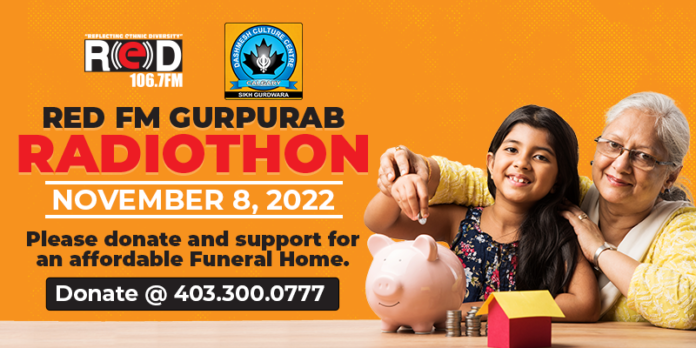 RED FM Calgary is happy to announce that our 2022 RED FM Gurpurab radiothon will raise funds to support an affordable Funeral home for the community in Calgary.
This radiothon will be held on November 8th from 8 am onwards at:
The Dashmesh Culture Centre at 135 Gurdwara Sahib Blvd. NE Calgary T3J 2X5
How to Donate:
We are grateful for your support.
Phone: On November 8th, 2022, please call 403- 300 0777 to donate using your credit card.
In-Person: at the Dashmesh Culture Centre Gurdwara Sahib
Cheque: You can also mail your donation cheque. Your cheque should be payable to Dashmesh Culture Centre.
Mailing address: RED FM #420-4774 Westwinds Dr N.E. Calgary T3J 0L7
RED FM does not retain any portion of the donations. 100% of the funds collected during the radiothon are for Dashmesh Culture Centre's Affordable Funeral home project benefitting our community.
Donor information will be provided to and retained by Dashmesh Culture Centre, for processing donations made during the Radiothon. Dashmesh Culture Centre may use the information provided during the Radiothon to send you tax receipts and thank you letters or to contact you for future donations and support.
This project is much needed in Calgary to seek affordable funerals for the Community for a simple,
We thank you for your support.